Melanie's Botiker Bag
orange bedazzled leather make up case (DIY)
purlpe bag and purse hanger
Sephora oil blotting papers
Melissa's bag
contents:
camera case
K20 drink mix
wallet
Lady GaGa tickets
change purse
keys
tic/tacs/Orbit gume
MAC lip gloss (wildly lush)
purell hand sanitizer
Advil
Blistex lip balm
cell phone
camera
Melonie M's Monogram Graffiti Speedy




contents

:


DSW giftcard




nail file




coach sunglass case




coach make up bag (black patent)




check book




silver nordstrom gift card




Paris compact mirror




clinique moisturizer




hand sanitizer




chapstick




smashbox lip gloss




sephora compact hair brush




iPhone and charger
How much stuff are you carrying around in your bag? It is so amazing how many things we hide in our handbags. What's in your bag? This is the questions I posed to a few coworkers and friends. The results, as you will see where varied . I mostly carry large handbags and manage to fit every essential and non-essential item inside! If I HAD to name my essentials items, the list would read something like this:
lip balm, lip gloss, lotion, ipod, phone, camera, wallet, sunglasses, keys (off course), cell phone, emergency medicine
(aspirin/gas-x, I said emergency!)
Anywho, I will post the contents of my own bag very soon. Well, as soon as I clean it out that is. Right now, it is filled with receipts from the grocery store, my son's inhaler, and other unmentionables... I must say that I truly,
LOVE
every purse I own! I don't have many, but I only buy a purse that I absolutely
LOVE.
They are never practical, always fashionable, at least to me they are! I am currently lusting after several bags, here are just a few, take a look below.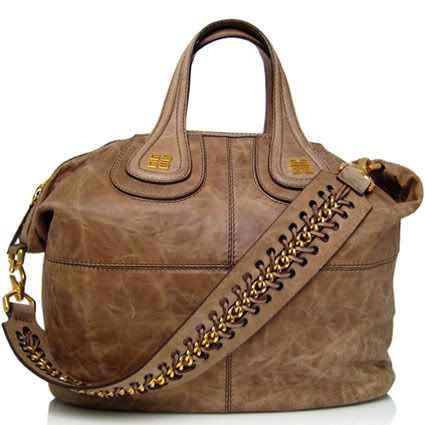 Givenchy "nightingale"

Gucci "running"
As always, thanks for stopping by~Besos, Lynn